Hail Protection for Car Storage Lots
How do you ensure that your car storage lot is the ideal choice for your future customers? How do you prove to your current clients that their vehicles are protected against anything that mother nature may throw at you? That might be a question that is on your mind and Weathersolve Structures is here to help answer that. 
Weathersolve structures provide hail canopies and hail structures for car storage lots to help protect against damaging hail, weather, UV lights, and more. This is the solution that you have been searching for to help protect your business.
With Mother Nature being unpredictable on a good day, bringing beautiful sunshine one minute, and bombarding us with rain, or even worse, hail, the next, eliminating potential damage from unpredictable weather is key for businesses like yours. Hailstorms can cause extensive destruction and bring with them astronomical repair costs. Unless you have a hail canopy.
Weathersolves Hail Canopy Benefits
Weathersolve hail structures are strong and are strong enough to protect vehicles from baseball-sized hail with no damage.
We spent time talking to our clients to ensure that we create a hail canopy that is designed specifically for your business and environmental needs and concerns that work around or with pre-existing infrastructure. See our custom design and delivery process
Our structures are different than the competition, we focus on the needs of your business and your customers.
We ensure that the structures do not take away from your companies branding and that your brand is always at the forefront.
There will be no loss of parking spaces or poles for accidents
These hail canopies are easy to maintain
Benefits of a Car Storage Lot Hail Canopies
Hail protection for Car Storage lots can:
Giving your customers that peace of mind that their vehicle is in your safe hands while protecting against what mother nature might throw at us.
Minimize the risk of severe weather impacting operations
Eliminate the worry with a pre-emptive and proactive multipurpose solution.
Want to learn more about our WeatherSolve hail canopy solutions for car storage lots? Talk to our experts today to see how we can help you and your business.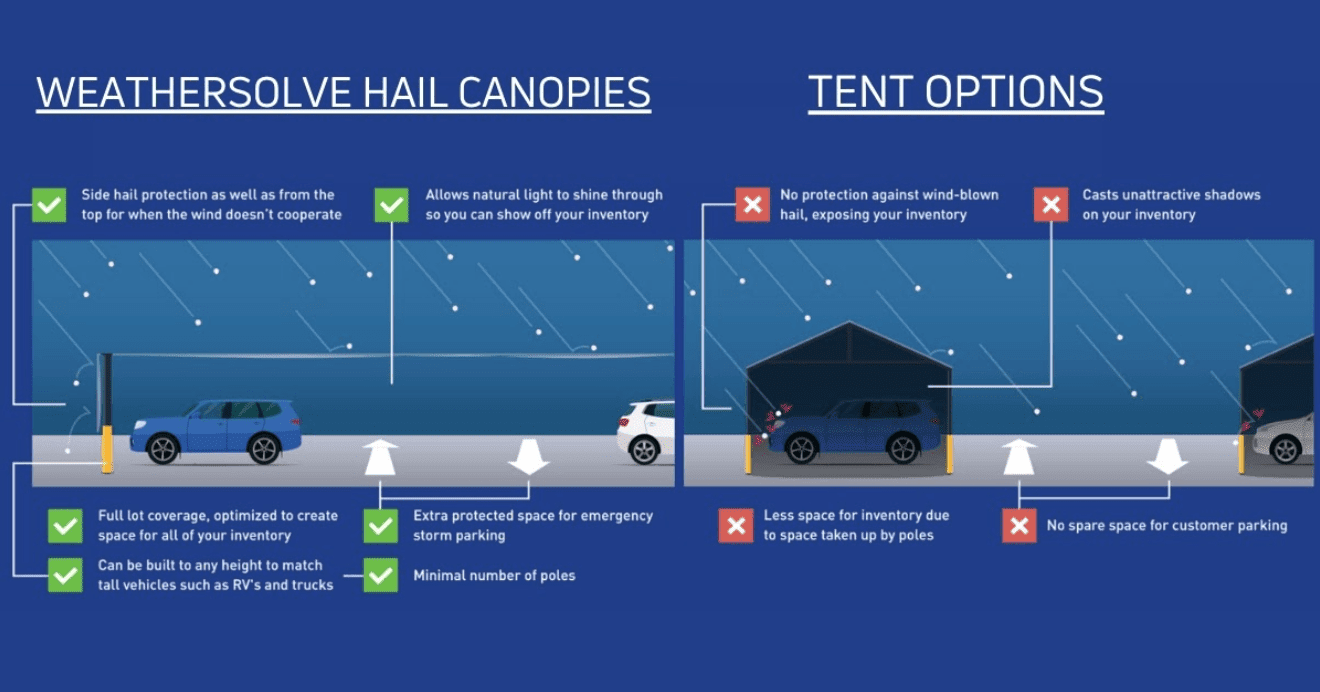 ADDITIONAL RESOURCES
For some people, that is enough information so please jump to the contact button and you're done.
For others who wish to investigate in more detail and get familiar with the technology, please explore. WeatherSolve is proud to be the world leader in suspended fabric structures. No other company has the breadth of locations, the range of environments, or the variety of tested solutions.
This website lays out some of the many options and features as decisions you can participate in, or that we can make on your behalf.
At every point, we have scientific references, results of our in-house testing, and experts on hand to discuss details or help explore ideas. If we don't know we'll find the answer for you!
Wind Protection
The operators at an energy generation facility with air-coolers were frustrated. Every time the wind blew, their generation efficiency dropped.
Wind Protection for Solar Field
A solar field supplier wished to refine their design to cut the cost of the mirror supports in a windy location. A related side benefit was that they could have the parabolic mirrors orientated to continue to generate electricity in wind storms that would otherwise require the mirrors to be rotated to the "stow" position facing into the ground.