Bringing safety solutions to South and Central Alberta
Calgary is known for a lot of things: stampedes, the sports hall of fame, the Calgary Tower, and hail. In fact, Calgary hail storms and inclement weather in the surrounding area have such notoriety that south and central Alberta has been dubbed Hailstorm Alley. As exciting as the name may appear, it's one of the worst areas in the world for damaging storms of this nature and the cost to repair and rebuild from Calgary hailstorms can be astronomical. Damage has been so severe that earlier this year (2020) the estimated cost from a storm was 1.2 billion dollars, earning the title of the fourth most expensive natural disaster in Canada. Over 70,000 homes and vehicles suffered damages when hailstones the size of tennis balls fell throughout the area.
And things aren't about to change anytime soon. The Alberta Severe Weather Management Society has recorded an increase in storm frequency and severity over the last several years, and there's a reason—location.
South and Central Alberta is geographically situated in what's essentially a storm spawning ground. With cold air moving in from the north, high mountain elevations surrounding, and warm air moving up from the south, the area is prone to what's known as an "upper trough" where air is colder than usual for its height or elevation and becomes unstable. As warmer air, known as a front, moves into these troughs, carrying moisture with it, clouds form, and more often than not, precipitation falls in the form of excessive rain, thunderstorms, and of course, hail.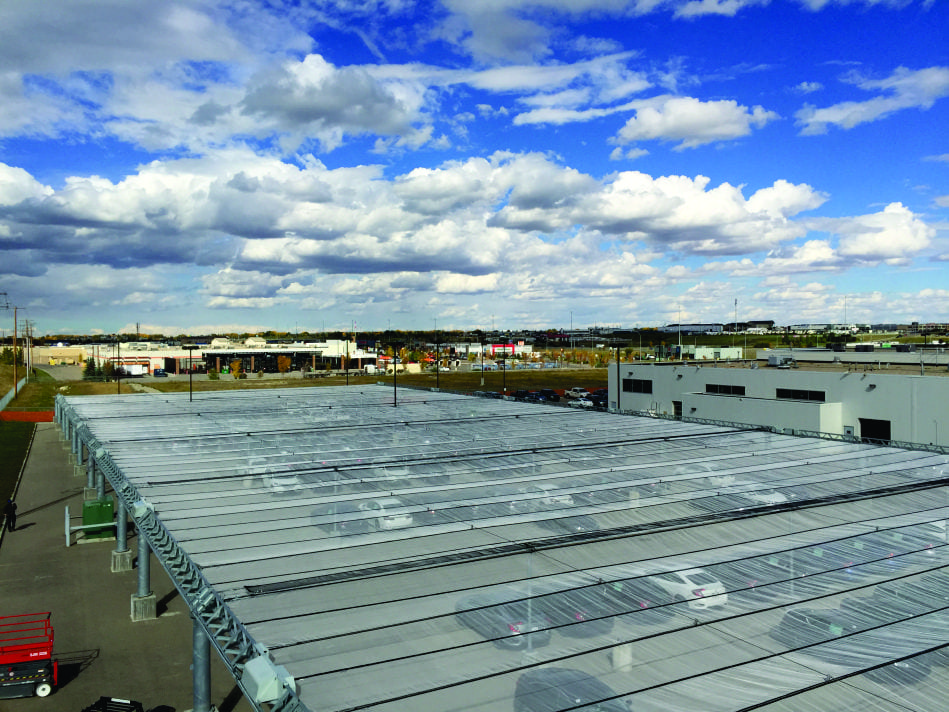 While wishing for the power to control the weather might seem like the only way to prepare and prevent such havoc, the truth is there's a simple solution for falling hail: catch it. WeatherSolve has mastered the art and science of hail canopies, assuring your dealership is protected and preventing damage to valuable inventory, saving you and your business time, money, and hassle.
The fabric used in our hail canopies is put through rigorous testing—we've even dropped weights simulating 4″ stones and golf balls on it from a helicopter to ensure it can stand up to whatever Mother Nature throws your way. The material exceeds fire code standards and is made to withstand wind, rain, snow, and freezing temperatures while letting sunlight filter through, keeping your outdoor space pleasant, functional, and thoroughly protected. Plus, you can retract the canopy with ease when necessary.
WeatherSolve systems are designed to work with your existing structures and the flow of your lot, eliminating the need to reconfigure your layout or sacrifice space. The upfront investment in protective measures like our hail canopies will save businesses like yours in the long run as they protect vehicles, trucks, trailers, and even boats from costly repairs, time-consuming insurance claims, and expensive increased premiums.
Our team has extensive experience with weather solutions, and we've created and perfected innovative systems specifically for Hailstorm Alley. That means you get maximum control and maximum peace of mind anytime you see WeatherSolve.