Image by Skyler Leavitt
Southern Alberta Hail Storm
This past weekend, on the afternoon of Saturday, June 13th, a highly destructive series of storm cells passed through Southern Alberta.  The storms resulted in flash flooding, strong winds, and severe hail; all causing significant damage to property and agriculture (early estimates place the total damage in the billions of dollars).  These storms put several of WeatherSolve's hail protection canopies to the test with hailstones as large as tennis balls falling from the sky at speeds in excess of 60 mph.  Structures in at least three communities (Airdrie, Calgary, Cardston) were impacted by the storms.
Apart from controlled testing exercises, the storm in Cardston was by far the most severe hail event that a WeatherSolve hail canopy has faced to date.  As subscribers to the scientific method, we were thrilled not only to see the structures stand up to the tennis ball-sized hailstones, but also to have video footage from shortly after the storm had passed, courtesy of Mr. Skyler Leavitt from CSL Ford.
This storm also tested our vertical drop screens, which are vertical panels installed around the perimeter of the structure to prevent damage caused by wind-blown hail.  The events that unfolded at Mr. Leavitt's dealership are considered a huge success, and validate years of R&D that went into the design of our commercial hail canopy.
Hail Stones in Alberta 
Extreme weather events of this magnitude often present opportunities to innovate and improve existing designs, as systems are put to the test in ways that are difficult, if not impossible, to replicate in a controlled testing environment.  As a result of the storm that passed through Calgary, we have identified two connections arrangements that did not function as designed at one of our client's dealerships.  They have since been upgraded with more robust arrangments to eliminate the method of failure that was observed onsite.
How We Can Help – WeatherSolve Hail Canopies
WeatherSolve empathizes strongly with our Albertan neighbours who endured the destructive impact of the storms this past weekend. Within 24 hours of the storm passing, WeatherSolve staff had mobilized to clients' sites to assess canopy performances and deal with any issues.  Dealing with the aftermath of an event like this only strengthens our resolve to continue developing reliable, purpose-built weather structures to protect against the worst that Mother Nature has to offer.
For any questions, or to see how WeatherSolve can help protect what matters most to you, please email [email protected] or call (604) 607-7781.
Respectfully
Mike Robinson
CEO & Owner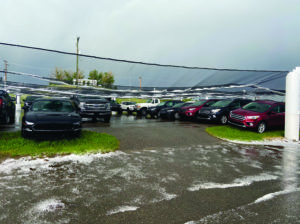 Image by Skyler Leavitt