Over-Row Draped Birdnet
This crop protection system was developed for grape growers looking for a low cost bird protection system. The nets are positioned and removed with tractor-mounted rollers. Costs are minimized by using the same pieces of net on sequentially ripening varieties.


Along-Row Windbreak
This type of crop protection ranges from 30ft (9.1m) or 6ft (1.8m) high fences incorporated with the trellis on young plants, to 20ft (6m) high shelter above every 5th (say) row. It is most effective when the wind directions are very dominantly across the rows.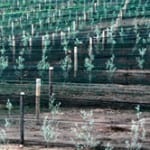 Windbreak Grid
This is structurally a very efficient system resulting in relatively low costs for the degree of shelter provided.  For most situations the wind comes from too many directions to suit along-row windbreaks. The alternative is a grid, usually 100ft (30.4m) x 100ft (30.4m) with poles at each
Fixed Bird and Hail Nets
The bird nets have mesh sizes of as much as 4" and as little as ¾". The larger size is suitable for only the largest birds such as ducks. The smallest size is small enough to exclude the very small birds, but not so small as to exclude bees. Hail net meshes usually run from 1/8" to 5/8" depending on the type of hail to be protected against and a possible compromise with acceptable levels of shade.  With fixed canopies it is appropriate to employ stronger and more secure fittings, and to install the fabric more tautly. Together this creates a stronger more durable canopy compared to the seasonally removable option.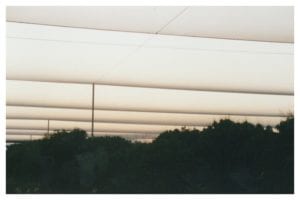 Seasonally Removable Canopy
This style of canopy evolved in response to a need for seasonal shade or hail protection. Poor performance of some canopies in snow also encouraged seasonal removal! The canopy is (more-or-less) manually unclipped along one edge of each panel and tied back when not needed. For many cropping operations, the dilemma becomes when to put it out and in as it is generally too slow to be done more than once a season. It is most useful for small and odd-shaded areas.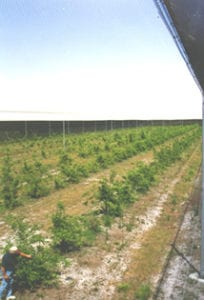 Swivel Retractable Canopy
The patented swivel system is a means of quickly  opening or closing a protective canopy. This enables quick response to climatic changes such as a hail threat, excess sunshine or wind-storms whilst leaving the canopy otherwise retracted for bee access or fruit colouring. As the fabric is permanently fixed to the carry-cables, robust connection methods are able to be used.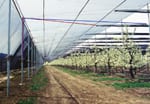 Accordion Retractable Canopy
The accordion retraction system is a much more expensive retraction system. It's main advantage is that it can be used with a wide range of fabrics.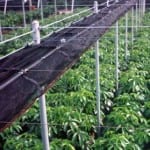 Shadehouse
Shadehouses use less porous fabric which creates a much higher wind loading on the structure. The flip side of this coin is that narrower panels of fabric are used with more internal supports, thus
making a potentially much stronger structure. Ultra Span shadehouses have weathered hurricane force winds with no damage.
Seasonally Removable Rain cover Shadehouses may also be adapted for installation of "winterising". This refers to nearly solid translucent sheets which are attached under the shade to retain heat over winter.
Raincovers are designed to shed rain on a seasonal basis. Being retractable, they have the same robustness restrictions as the seasonally retractable canopies discussed above. Humidity build-up under the covers can be a problem so the best covers also have above-row ventilation provisions.